FOREX TREND DETECTOR REVIEW
FOREX TREND DETECTOR REVIEW SUMMARY
Foreign Exchange Robot: Forex Trend Detector
Software Programmer: The team of Wallstreet Forex
Scalping: Scalping the M5 chart using a low-risk volatility-breakout strategy
Forex Pairs: EURUSD (but it can trades other pairs as well)
Trading Platform: MetaTrader-4
License: 1 Real Account License / 2 Demo Accounts / Lifetime updates
Pricing: 247 USD
INTRODUCTION TO FOREX TREND DETECTOR
Forex Trend Detector is an automated Forex software for Metatrader-4, the EA is compatible with all MT4 brokers and all brokers using the ECN-type order fulfilment. The Forex Trend Detector uses tight management and profit protection via several filters. The system is designed to trade very selectively by accepting only trades with high Reward/Risk Ratio. The success of the EA is based on a volatility breakout strategy that is programmed to validate and to trade the breakout signs via statistical techniques and years of analysis in raw market data. Recommended setup includes a PC with 2 GHz CPU, 4 GB RAM, and operating system one of Windows XP, Windows Vista, Windows 7, Windows 8 or Windows 10.
Here is the Forex Trend Detector Live Performance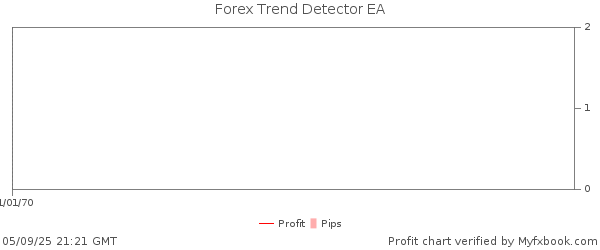 FOREX TREND DETECTOR ALGORITMH
The Forex robot is designed to trade exclusively EURUSD in the M5 chart but it can trades other Forex pairs as well. In the core of Forex Trend Detector EA is a polynomial algorithm programmed to adjust its parameters in real-time. There are many filters incorporated such is spread and slippage control, tight management and a drawdown compensation algorithm.
The Expert Advisor is programmed to open 10 trades maximum in the direction of the market impulse in at least 5 minute intervals. All trades will be protected by using tight management system (tight stop-losses and fair trailing-stops). In case of a false breakout, trades which will be closed at about 35 pips loss.
The Volatile Breakout Strategy:
It is based on a sequence of market observations and trading actions that signify a tendency in the market

It recognizes when a volatile market is closing to an end

It identifies the volatility borders bracketing the dominant market trend

Executes trades based on predicted price levels when the breakout occurs