FAP TURBO 2 REVIEW
FAP TURBO 2 REVIEW SUMMARY
Foreign Exchange Robot: FAP Turbo 2
Software Programmer: Steve Carletti
Scalping: Scalping 8 currencies on the M15 chart and EURUSD on M1 chart
Forex Pairs: EURGBP, EURCHF, EURUSD, GBPUSD, GBPCHF, USDCHF, USDCAD plus Bitcoin Trading
Trading Platform: MetaTrader-4 / MetaTrader-5
License: 2 Real Account License / Unlimited Demo Accounts / Lifetime updates
Pricing: 149 USD
INTRODUCTION TO FAP TURBO 2
The FAP Turbo was initially released in 2008 (FAP means Forex Auto Pilot) and it is considered one of the most successful Forex robots in the history of retail Forex trading. The FAP Turbo 2 which is created by Steve Carletti, is a new and improved version of the Forex robot incorporating many new features. These new features include Bitcoin Trading and focus on minimizing the trader's capital risk exposure via tools such is the High Spread Protection System, the Build-In Loss Prevention System and the Automatic Risk Scaling.
Here is the historic performance chart (in profits) of FAP Turbo 1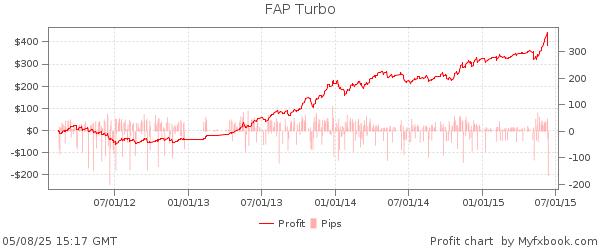 FAP TURBO 2 ALGORITMH
FAP Turbo 2 trades 8 currencies EURGBP, EURCHF, EURUSD, GBPUSD, GBPCHF, USDCHF, USDCAD and Bitcoin Trading on the M15 Timeframe. The best performing Forex pairs according to the programmers have been EURGBP and EURCHF. Note that FAP Turbo mainly targets profits of 10-20 pips and executes 1-5 trades in a daily basis.
The FAP Turbo detects and confirms the master trend by using technical analysis indicators such is William's Percent Rate, Alligator, DeMarker and Fractals.
The robot combines several trading strategies:
(a) The Medium-Term Strategy (MTS)
The Medium-Term Strategy works on EURGPB, EURCHF, GBPCHF, USDCHF, EURUSD, GBPUSD or USDCAD on all timeframes but mainly on M15.
(b) Long Term Advanced FAP strategy
The Long-term strategy works only on EURUSD and uses the M1 timeframe
Both trading strategies can be switched on and off very easily. Each trading strategy uses its own settings (preferred assets and timeframe). Note that you may use all trading strategies at the same time.